The first holed coins that we have record of are those of the East (I.e. China and Korea)
On page 236 of a book written by Homer Hulbert in 1906, entitled "The Passing of Korea", he writes about coin casting, stating:
"
The metal was poured into molds ()… These were broken up, and the coins were strung on square metal rods that just fitted the (square) hole in the coin. The ends of this rod were then put in a rude vise, and men with enormous coarse files ground down the edges of a thousand or more coins at a time
."
In other words, the square hole was used in making the coins.
A second reason that ancient eastern coins had holes, is that it meant the coins could be strung together
to create larger denominations
, with typically around 1,000 coins on a single string which was worth one tael of pure silver.
So at the least regarding the ancient coins of the East, the coins were
not
holed for people to conveniently carry them around their necks. People indeed carried them as jewellery on strings – but that was
not
the original purpose of the holes.
Some many modern day coins are still (at least until recently) made, with decorative holes in them
Not that long ago, milk coupons were still in use in South Africa as a kind of token coinage – the coupons were left in the empty bottle(s) on the front porch to pay for the next order.
Why were these tokens holed? This is the reason why – it was just a matter of convenience when buying and storing them…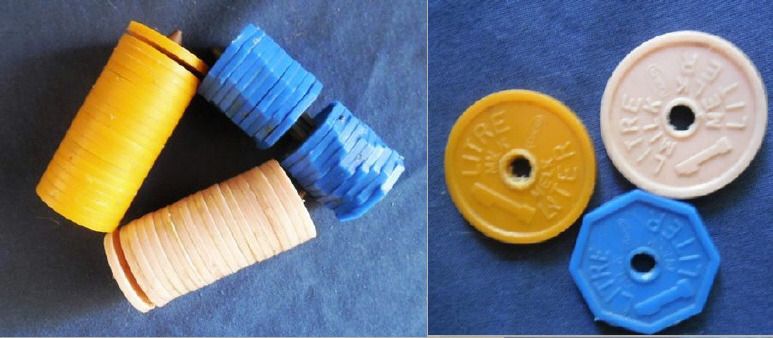 Why were African coins, like those of Eastern Africa, Western Africa and Southern Rhodesia holed? Was it, as in the case of the later milk coupons, also a matter of convenience when storing them – thus grouping them securely together wherever they are stored – and not necessarily to carry them on a person's arms or legs?
Look at this picture – the coins are still binded together on its original string and from the picture it is clear that the intention was
not to carry them on body parts
but to store them. As shown, the string would
not fit
around an arm or a neck. It would however, fit safely and conveniently into a bag and bundle the coins together like a purse does.
Coins were indeed carried around the necks or arms of people, but the reason was that because the coins were holed (for
another
reason) they could be strung around one's arm or neck.
That however, was
not
the
original and primary reason
for them being holed.
At least that is what I think. What do others think?